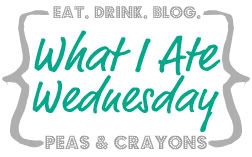 Alright, so I know a lot of peeps who show up for the What I Ate Wednesday soiree are really into healthy eating and their blogs reflect their amazingness, so this is just a little disclaimer for this week. Don't judge mah noms! My week has been filled with school insanity and lots of meetings and paperwork (yadda yadda) and so it's not that I was too busy to eat healthfully, it's that I wanted comfort food. :) Besides, the week was also filled with some pretty mundane salads, oldie but goody recipes and just plain "meh", but I figured you guys really didn't care to see that. Also, I had to share my food-related injury and since all this vampire literature/movie/TV series insanity has made it cool to be pale-- don't hate on my skim milk skin, k? Let's get to the good stuff!
My dog, thwarting my efforts to do crunches. "What are you doing, Mom? Can I help?"
We had to take a mini road trip to sell my husband's truck (now he can finish up his Shelby!) so we treated the kiddos to doughnuts. I'm not a huge doughnut fan (much rather bagels) but hey, we go with the flow 'round here.
Jalapeno popper grilled cheese I stole from pinterest . Seriously, if you have hours to waste, check out this site Jenn from P&C turned me on to-- completely addicting.
My daughter, her lost tooth and P.F. Chang's copycat Orange Peel Chicken I swiped from Razzle Dazzle Recipes
...oh yeah, and some vegetables and jasmine rice. But for real-- this tastes just like P.F. Changs (which, surprisingly, we don't have up here [drips with sarcasm]).
Triple fudge layer cake with chocolate drizzle. When my husband said he was craving sweets, I delivered. I don't play around. ;)
(Oh yeah-- I had just finished dinner so don't judge my kitchen dirtiness, 'neither.) So, as I was cutting up chicken for my orange peel deliciousness, my knife sprang from my hand (or maybe I knocked it off as I walked away, not sure) and it went, in slow motion, right for my foot. Having been a server for many years, I instinctively do what my husband and I call, "the server save", meaning, when a kitchen item starts to crash to the floor, we immediately stick our foot out to cushion the blow. If your foot is between the dish and floor, most of the time it won't break. This doesn't work quite the same way with knives. Good thing this knife fell in slow motion so I had time to think it through. "This is my sharpest, heaviest knife. I'm gonna cut my toe off and my husband is on the phone with my mother-in-law. He'll find me hours later in a pool of my own toe-blood. Shit. My luck." I winced and tried to get out of the way. I looked down and all limbs were intact. 'Tis but a scratch! Thank GAWD!
What's your best food-related injury story?
What's your favorite comfort food?