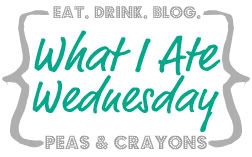 Joining in the fun over at
Peas and Crayons
again, though a little late this time. Well, there's no time like the present, I say-- especially if they're birthday presents! So, here's my noms for my birthday weekend. My body was sure to let me know all that food in a 72 hour period was a bad decision, but hey, live and learn, right?
Guiness Stout Brownies, a
new recipe
I found and had to try.
It's not my birthday without store-bought cupcakes with buttercreme frosting. Birthday = Buttercreme.
Just so happens the boxed BluRay set of Star Wars came out on my birthday weekend-- so Scott and my daughter watched it (and she commandeered his light saber app 'til his phone died).
Courtesy of Mom and Scott: Caesar salad, grilled eggplant and filet mignon. Um, noms!
MUCH coffee and pumpkin muffins
Okay, I confess, I ate an entire Ritter Sport in a sitting. Well, I was cooking at the time, but still...
NOTE: this is not my tattoo! (Yet.)
My father-in-law graciously took us all out to Cracker Barrel for lunch as well, where I got the carbohydrate vegetable platter or greens, dumplins, mac n cheese and fried apples.
Shhhh! Can you hear that? It's my arteries clogging! I promise my WIAW will be much healthier next week. :)