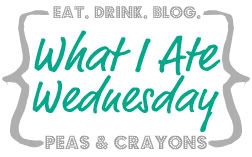 It's that time of week again...joining in at the party over at
Peas and Crayons
. I'm trying to remain positive, though this week is proving to be tougher than I was ready for. I just try to remember there are bigger things in the world to be worried about than my
menial burdens
.
Plus, I have MANY things to be thankful for! Including (but not limited to)
FOOD
! Let's take a look at all the amazing food I get to be thankful for--
Eggs, Salsa and Cheese. Transcendent!
Yogurt covered raisins and soy nuts-- which I so cleverly made into snack packs. (And then apparently sat on a raisin long enough to smear it all over my a$$ on the way to get the kids. Love. It.)
Pumpkin spice greek yogurt
7 layer dip. Noms. :)
What do you have to be thankful for?