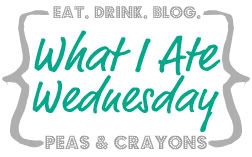 Tuck and roll, baby! Pretty much after I posted my
Going Strong [vegetarian] WIAW
for
Peas and Crayons
last week, the carnage cravings started-- for real. When the cravings went on to mess with how I felt physically-- achy, tired, depressed, it was time to eat some meat. Even as I wrote my review for
Eating Animals
, I was browning beef for my spaghetti sauce. I have learned through this experience, though, that my heart is in the right place, but full-on vegetarian is not who I am. It's nice to get in touch with my paleolithic side. :) So, after making it 23 days without meat, here's what I came up with:
Cup of coffee on the way out the door. (Like our flashcards taped to the door? Classy, I know.)
Steak and egg/whites with Texas Pete, of course...oh, and another cup of coffee.
Aren't these cute?!? Way to go, Krispie Kreme! (Mine are the ugly ones on the bottom left: pumpkin spice.)
After grocery shopping, I treated myself to 2 servings of Combos and a Diet Dr. Pepper (my favs!) and I bagged up the rest of the Combos for the kids. :)
Tuna in a pita with LOTS of pickles...and some obligatory vegetables.
Oh yes! And, I finally received my diploma from FSU! Woot! Now I have proof!
Happy Wednesday!