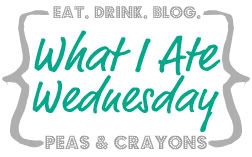 So, 19 days into the whole vegetarian try-out and I'm going strong (and happy!). I'm discovering all kinds of fun stuff I didn't know about before-- overnight oats (even the husband likes this one), quinoa (love it!), almond butter (new fav!), nutritional yeast (great to sneak into the kidddo's mac n cheese and spaghetti), et al. I've made some experiments that didn't work out (vegetarian meatloaf is best left alone, in my opinion) but the good has far outweighed the bad. The best thing is, with a little planning ahead, I've managed to make pretty healthy meals and stay within budget. Sweet! Now to join the
WIAW party over at Peas n Crayons
!
Gingerbread overnight oats. Noms!
$0.50 Go Green refill from Starbucks ( X 2! I was a little revved up by the time I got home.) while I shopped for tights for my daughter's Halloween costume. :)
Miso soup and salad with low fat Asian dressing
Luna bars on sale at Target
My favorite tea of the season!
Baked beans and broccoli slaw wrap, made with...
...from my friend, Meagan, for my birthday!
Star Wars popcorn. I pretty much bought it for the Star Wars tin. :)
Happy Wednesday!