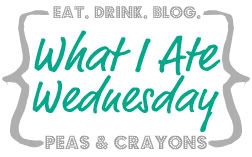 Did you know October 1st marked the beginning of Vegetarian Awareness Month? Well, it did. As such, I'm taking the plunge and giving vegetarianism the old college try for 31 days. So, with a little help from Jenn over at
Peas & Crayons
on how to be a vegetarian (instead of a pan-a-tarian) and still feed my carnivorous husband and not break the bank, or take too much time-- here's what I came up with for one day so far.
Overnight oats-- where have you been all my life? Instant oatmeal makes me hungry in 2 seconds but whole oatmeal fills me up til lunchtime. But who has time to get two kids ready for school and boil oats? Not I. Enter Overnight Oats.
Oh She Glows
has some great ideas, btw.
BK veggie burger sans one bun and a side of onion rings. I was running around town yesterday and this really hit the spot.
One of my errands was to grocery shop. I found these dark chocolate almonds and decided to take these little beauties home as my afternoon snack.
Breakfast for dinner. I made a huge batch of whole grain waffles and I decided I'd go with a savory one-- eggs, Laughing Cow cheese, mushrooms, onions and a slice of swiss.
Pop Up Bowl popcorn with a little taco seasoning (can you tell I'm sick of the butter flavor? I have about a million boxes, though, just to get the RedBox free movies inside.)
Any suggestions for a vegetarian lifestyle?
Any dishes I have to try before the month is over?